With the White Sox signing Liam Hendriks, the top option for teams looking to upgrade their bullpen is now off the market. Perhaps that will open up the floodgates for the other free-agent relievers, as nearly every would-be playoff squad is in the market for relief help. But whether it's financially motivated or a matter of roster construction philosophy, there are a few contending teams who simply won't be making a splashy addition to their bullpen. The Twins fall into that category.
In 2020, Minnesota's bullpen was the unheralded strength of a division-winning team. The Twins' relief corps was fifth in the majors by park- and league-adjusted FIP and ERA, and their relievers posted the majors' third-best strikeout-to-walk ratio. But two of their best relievers from last year — Trevor May and Matt Wisler — have left via free agency. With their starting lineup and rotation mostly carrying over from last year, replacing them both should be a high priority.
That likely won't happen in free agency. In his four years in charge, Twins GM Thad Levine has spent just under $40 million total on seven different free-agent relievers, with Addison Reed's two-year, $16.75 million deal in January 2018 the biggest individual contract he's handed out. Instead of using their open payroll space on volatile talent, the Twins have opted to build their bullpen using more creative means and picked up productive players with little fanfare.
Twins 2020 Bullpen
| Player | How Acquired | ERA | FIP | WAR |
| --- | --- | --- | --- | --- |
| Tyler Clippard | Free Agent, Dec '19 | 2.77 | 2.65 | 0.8 |
| Tyler Duffey | Drafted, '12 | 1.88 | 2.57 | 0.7 |
| Caleb Thielbar | Minor-league Free Agent, Dec '19 | 2.25 | 2.34 | 0.6 |
| Matt Wisler | Waiver Claim, Nov '19 | 1.07 | 3.35 | 0.6 |
| Taylor Rogers | Drafted, '12 | 4.05 | 2.84 | 0.5 |
| Trevor May | Trade, Dec '12 | 3.86 | 3.62 | 0.4 |
| Jorge Alcala | Trade, Jul '18 | 2.63 | 3.57 | 0.3 |
| Cody Stashak | Drafted, '15 | 3.00 | 3.26 | 0.3 |
| Sergio Romo | Free Agent, Dec '19 | 4.05 | 4.34 | 0.2 |
With that in mind, the Twins may already have found their May and Wisler replacements. Just before Christmas, they signed a handful of minor-league free agents, including Luke Farrell and Glenn Sparkman. Then right after the holiday, they picked up former Angels closer Hansel Robles with a one-year, $2 million contract with an additional $500,000 in incentives.
Dipping into the free-agent market for a reliever is a little out of character for the Twins, but adding Robles represents a low commitment with some real upside. He enjoyed a breakout year in Anaheim in 2019, accumulating 1.8 WAR and posting career bests in ERA, FIP, and walk rate, which he cut nearly in half from the year prior, going from 10.3% to 5.7. Interestingly, Robles' newfound control didn't come from pounding the strike zone any more often than he had before. Instead, he was better at locating his pitches in the zone when behind in the count: In 2018, a little more than half of his pitches were located in the zone when the batter was ahead; that rate rose to 66.4% in 2019.
Unfortunately for Robles, he couldn't hold onto those improvements in 2020, as his ERA, FIP, and walk rate all rose to career highs. His struggles seem to be tied to one key factor: his fastball velocity.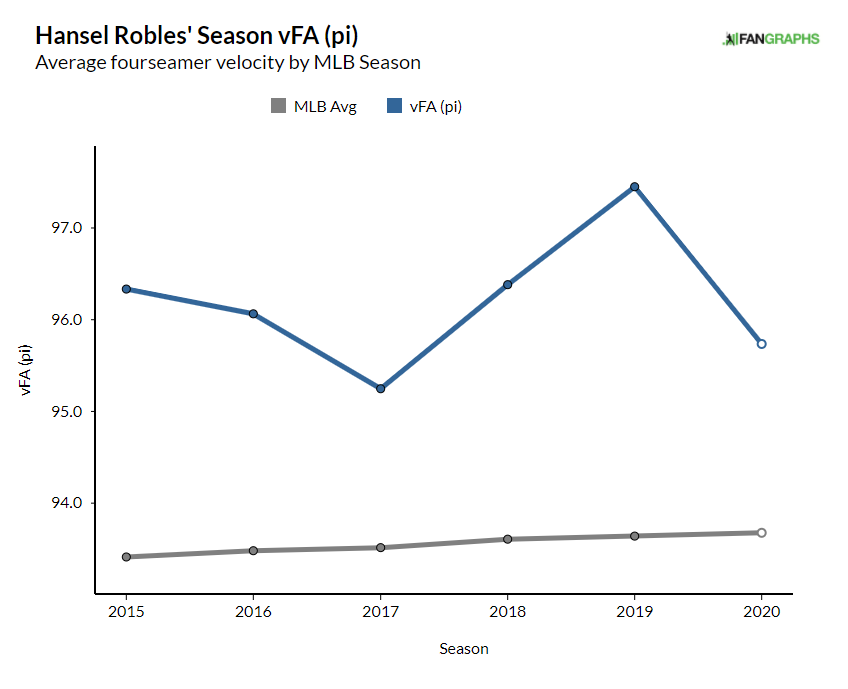 In 2019, his fastball velocity peaked at 97.4 mph, but he lost nearly two miles per hour off his heater last year. That dip in velocity led to ugly results when batters put his fastball in play and probably explains why he reverted back to avoiding the strike zone when behind in the count. (Despite all of his struggles in 2020, he did record the highest swinging-strike rate of his career.)
If he can figure out how to revive his fastball velocity, Robles has plenty of upside because of a revamped changeup that he debuted in 2019. Prior to that year, he had leaned on his fastball and slider as his primary pitches, throwing his changeup around 7% of the time, but in 2019, he started throwing his changeup nearly a quarter of the time. The shape of the pitch was totally different, too: He added more than three inches of vertical drop by cutting its spin rate by nearly 200 rpms. This new tumbling changeup was a fantastic weapon for him: His whiff rate with the pitch jumped up to 36%, and when batters made contact, they pounded it into the ground.
Both Farrell and Sparkman have more warts than Robles, but both have some hidden upside that could transform them into key contributors if they can harness their strengths. When the Twins added Wisler to their roster, they encouraged him to lean into his slider more than he had previously, going from 70.5% usage with the Mariners in 2019 to 83.4% in Minnesota. Both Farrell and Sparkman have good breaking balls, and both of them increased their usage of those pitches in 2020, and while each of them threw just five innings last season, there are still some things we can glean from their pitch repertoires.
Farrell has bounced around the league the last four years — the Twins will be his sixth organization in that span — and has yet to put everything together at the highest level. He does, however, possess an excellent slider that generates plenty of swings and misses, with a 41.2% whiff rate. Fittingly, he's been steadily increasing his usage of that pitch, hitting a new high of 42.0% last season while with the Rangers. He also started throwing his curveball more often, and that pitch generated nearly the same whiff rate as his slider. With a fastball that doesn't have the velocity needed to be effective without some measure of deception or some other separating factor, Farrell's path to success probably looks something like Wisler's, where he leans on his breaking balls far more often.
Like Farrell, Sparkman, who spent last season with the Royals, went all in on his breaking ball in 2020, increasing his slider usage from under 10% in 2019 to 46.7%. With all those extra sliders came a career high swinging-strike rate, but oddly, that didn't translate into strikeouts. In fact, he posted the lowest strikeout rate of his career in 2020, just 7.4%. As it turns out, Sparkman was generating all those whiffs with his slider early in the count but not using it to put batters away: Once he got to two strikes, he threw his slider just 23.4% of the time. Trusting that pitch more when ahead in the count could turn him into a useful reliever.
The likelihood of both Farrell and Sparkman becoming significant major league contributors in 2021 is low. But while they have plenty of hurdles to overcome, they have the tools in their repertoires to succeed, as does Robles, and if you squint enough, you can see how the Twins could turn each of these pitchers into success stories with some tweaks and changes. It's the latest attempt at what's been a surprisingly successful strategy in Minnesota: If you gather enough lottery tickets, you're bound to hit on one of them.