03:54
What happened today, 24 February 2021
Updated

03:43
NSW issues Covid alert for New Zealand arrivals
Updated

03:04
Media bargaining code passes Senate
Updated

02:35
Australian bosses say the climate crisis is the biggest challenge facing their businesses – in contrast to their overseas counterparts, who have ranked recovering from the Covid-19 pandemic their top concern.
"Climate change impacts" were rated the No 1 concern by 18% of 155 Australian executives surveyed by accounting firm Ernst & Young, followed by technological disruption (17%) and "the continuing Covid-19 pandemic" (15%).
Globally, the positions of climate change and the pandemic were reversed, with the pandemic considered the biggest challenge by 18%, the economy second with 12% and global heating a distant third at just 9%.
EY's managing director of strategy and transactions, David Larocca, said:



We think this reflects both the fact that locally the pandemic has been handled comparatively well and also our C-suite consider Covid's impacts to be short-term.

It also reflects the priority position investors are now giving sustainability and climate change when making their decisions.
Over the past few years investors, including large superannuation funds, have ramped up pressure on boards and executives to commit the companies they lead to cut greenhouse gas emissions.
In response to investor pressure, Australia's two big miners, BHP and Rio Tinto, have said they will attempt to reduce their emissions to net zero by 2050, while major banks ANZ and NAB have committed to reducing or eliminating their funding for coal projects.
The election of Joe Biden has also increased pressure on Australia and its corporate sector to do more on climate.
Read more:
Updated

02:18
Nine Entertainment's outgoing chief executive, Hugh Marks, has pledged to give $2m in jobkeeper payments back to the government after the nation's biggest local media company posted a $182m net profit.
"This is a remarkable reflection of a period where much of Australia spent time in lockdown, or recovering from lockdown, and the Australian economy was in recession," Marks told staff.
"In the face of this, we've reported a 42% increase on last year in earnings before interest and tax of $355m and a total revenue of $1.16bn for [the first half of the financial year]."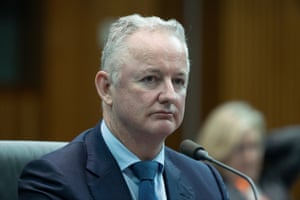 In his final results presentation after five years leading Nine, Marks said the multimedia company had resumed talks with Facebook, and was continuing talks with Google, for the digital giants to pay for its news stories. It is understood Nine's deal with Google is worth $30m a year.
The Nine results were delivered the day after Facebook reversed its ban on Australian news on its platform after coming to an arrangement with the government on the news media bargaining code.
Read more:
Updated

01:54
Queensland could take a significant step towards hosting the 2032 Olympic Games this week when a recommendation for a preferred bid candidate is made to the International Olympic Committee.
The IOC's executive board is set to meet on Wednesday night (AEDT), when it will hear a presentation from its newly formed Future Host Commission.
If, as expected, the commission recommends the south-east Queensland bid, more detailed negotiations can begin between the IOC and Australian officials with a view to being confirmed as the preferred host candidate at this year's IOC session.
Under normal circumstances, that would take place just before the Tokyo Games, starting in July this year, but Covid-19 has clouded timings and there may be a delay to the scheduled meeting.
But given the IOC's new bid process, once installed, the preferred host candidate would be in a strong position to win rights to host the 2032 Olympic and Paralympic Games.
"Should the IOC announce as speculated it's another step in the process – positive – but just another step," a Queensland government spokesperson told Guardian Australia.
The Australian Olympic Committee said it would wait to hear of any overnight developments from the remote meeting before responding.
Read more: